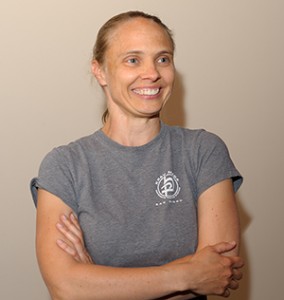 ROBYN FLYNN
Instructor
Purple Belt Traditional Close Quarter Combat
Trained in KMWW in Calgary, CKM in Calgary and IKMF in San Diego
Robyn Flynn began her martial arts instruction in 1997, training in a blend of martial arts in Montreal QC with Guro Michael Gregory. Here she learned a diverse mix of systems including Savate, Jeet Kune Do, Capoeira and Kali. After moving to San Diego CA, Robyn discovered Krav Maga, training with Jonathan Levi and Dana ben Kaplan in IKMF. She continued her Krav Maga training in Calgary, attaining a green belt in Krav Maga Worldwide with Derrick Brown before taking time off to raise a family and to learn boxing at Teofista. Most recently, Robyn trained with Jimmy Hall of Integrity Martial Arts, achieving purple belt status in Traditional Close Quarter Combat. She also holds a PhD in neuroscience.
Instructor
Krav Maga (3 years)
Traditional Close Quarters Combat – Green Belt (1.5 years)
Trained with Integrity Martial Arts from 2010 – 2014, when the club closed.
Avid competitive shooter – 3-Gun, IDPA, IPSC, USPSA, Steel Challenge
Supervisor of the Corporate Services Department (Calgary office) of one of the oldest law firms in Alberta